On Friday, September, 2010, riders from across the country and their pre-1916 motorcycles will embark on a two-week odyssey from the East Coast to the West Coast in the Motorcycle Cannonball Endurance Run. David Uhl, in collaboration with Michael Lichter, is preparing an exciting surprise for the winners of the Motorcycle Cannonball Run's Class Two and Class Three!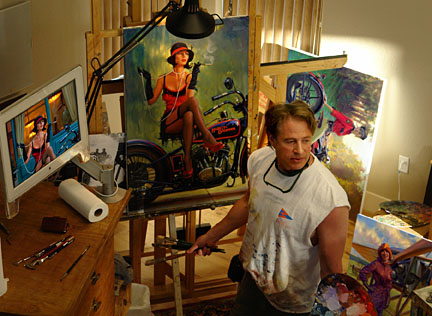 David Uhl is recognized and highly respected for his unique style and vintage motorcycle paintings. David has been commemorating important motorcycle rallies and events, such as Sturgis and Daytona Bike Week since 1996. Fascinated by the motorcycle imagery from the early 1900s through the 1940s he applies many historical motorcycle scenes and stories to his art.
Michael Lichter is a world-class photographer whose work has focused on motorcycles and the biker culture for over 30-years. His work has illustrated over 1,000 articles on the subject, ten coffee table books, annual reports, advertising, billboards, brochures and posters. Limited edition photographs from his archive have been exhibited in galleries and museums and are collected domestically and abroad. His commercial clients include Harley-Davidson, Allstate Insurance, Nikon, Metzeler Tires, Indian Motorcycles, S&S, Custom Chrome, WileyX and many other names from the motorcycle industry. While Michael is often traveling across America and overseas to capture his subjects, he continues to operate out of the same Boulder, Colorado studio he has maintained for 28-years. Samples of his work and more information can be found at www.lichterphoto.com.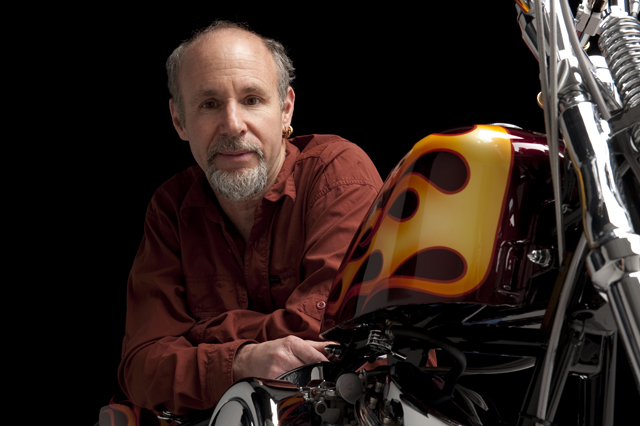 David and Michael will be scanning the entire event in Kitty Hawk keeping their eyes trained on some photographic aspect that will depict the excitement and spirit surrounding the start of the rally. Once the photographs are complete, they will split up. Michael will travel the entire route shooting from the back of a 1953 rigid Panhead (facing backwards) and David will travel back to the studio in Golden, Colorado where he will commence a personal race against time. His task will be to paint an original oil on canvas based on Lichter's photographs, finish the painting before the end of the ride, fly to California with it and then present the original oil painting to the winner of Class 2.  For the winner of Class 3 David has already completed a historically relevant work featuring the namesake of the ride itself…E.G. "Cannonball" Baker. He will also be presenting the original oil of this painting to the winner of Class 3, the multi cylinder/multi speed class.


Additional information: Special limited edition prints of the two original David Uhl fine art paintings will be available for purchase through Uhl Studios. There are plans to do a third piece based on the many photographs Michael will actually be accumulating from the run, this piece will be determined after the ride itself is over and there is time for review.